Tech Talk for Tuesday January 18th 2022
Technical Notes released yesterday at
TSX 60 iShares $XIU.CA moved above $33.04 to an all-time high extending an intermediate uptrend. Seasonal influences are favourable to the first week in March. If a subscriber to EquityClock, see seasonality chart at
https://charts.equityclock.com/ishares-sptsx-60-index-fund-e...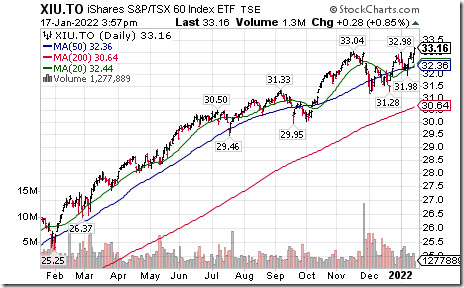 Canadian Pacific $CP.CA a TSX 60 stock moved above Cdn$97.59 extending an intermediate uptrend. Seasonal influences are favourable until early March and frequently to late May. If a subscriber to EquityClock, see https://charts.equityclock.com/canadian-pacific-railway-seas...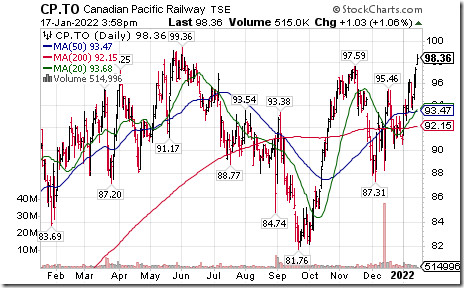 Oil service stocks on both sides of the border are responding to higher crude oil and natural gas prices. Nice breakout by Mullen Group MTL.CA above Cdn$11.82 completing a double bottom pattern!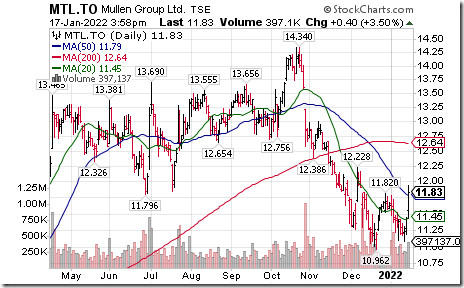 Trader's Corner
Equity Indices and Related ETFs
Daily Seasonal/Technical Equity Trends for Jan.17th 2022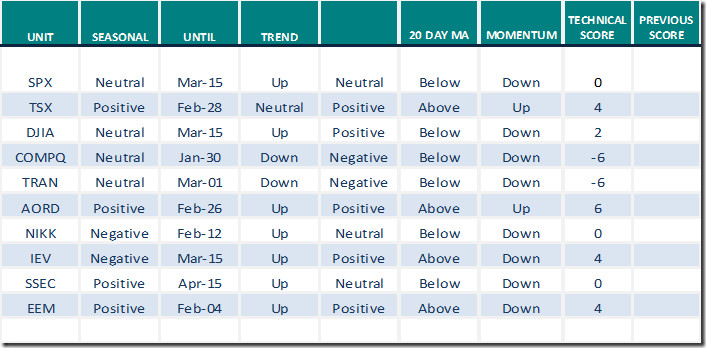 Green: Increase from previous day
Red: Decrease from previous day
Commodities
Daily Seasonal/Technical Commodities Trends for Jan.17th 2022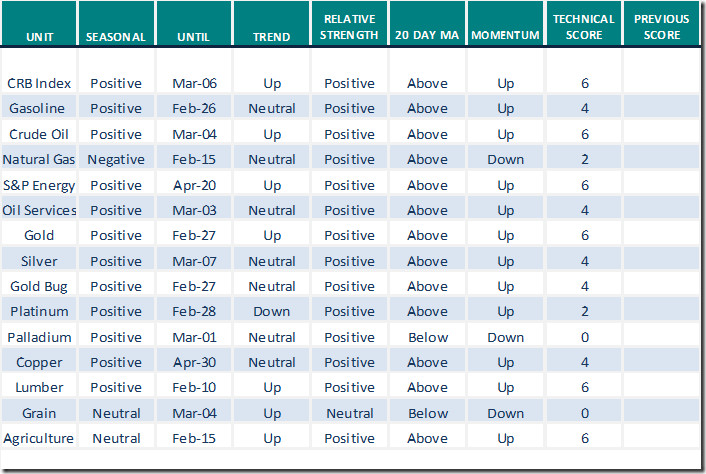 Green: Increase from previous day
Red: Decrease from previous day
Sectors
Daily Seasonal/Technical Sector Trends for Jan.17th 2021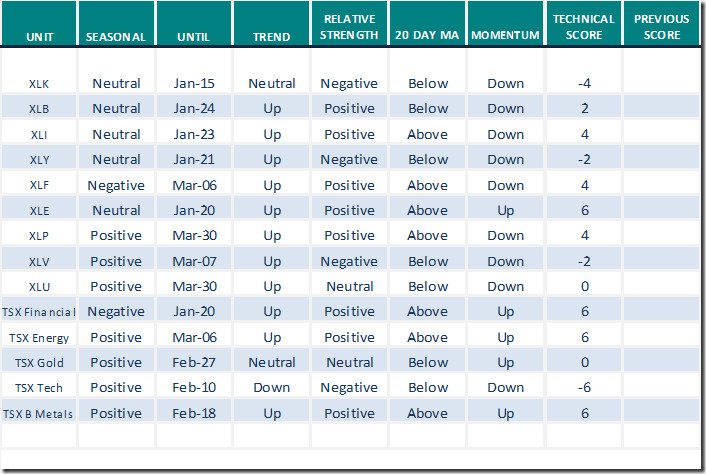 Green: Increase from previous day
Red: Decrease from previous day
All seasonality ratings are based on performance relative to the S&P 500 Index (except TSX)
TSX Momentum Barometers
Disclaimer: Seasonality and technical ratings offered in this report and at
www.equityclock.com are for information only. They should not be considered as advice to purchase or to sell mentioned securities. Data offered in this report is believed to be accurate, but is not guaranteed